Happy New Year from Earley Wellness!

Happy New Year from Earley Wellness!
Throughout this season, and as we move into a new (and hopefully better) year, we wish you moments of peace amid the difficulties, connections with family and friends even if they cannot be in person, the warmth of memories from holidays past, and wonderful glimpses of the joy that still lives under the surface! We hope this new year brings you peace and prosperity.
Important Safety Updates
Right now, safety is our highest priority. Deb has not been traveling this holiday season to continue to provide services to her wonderful clients. Mayor Bowser is asking people to not travel to stop the spread of COVID-19, but if you do travel, please quarantine for 14 days once home. You can find this and more safety information here.
Our Safety Video Won a National Contest!
We are SO excited to announce that we took 1st place for the video that best embodies Acupuncture Safety during COVID from the National Certification Commission for Acupuncture and Oriental Medicine!
Thank you all for your votes and your continued support during this time. It means so much!
---
Restorative Activities – Starting the New Year Off Right!
Right now, we are in the best season to slow down and conserve our energy. The darker and colder days invite this meditative space to rest and reflect. Whatever your "winter hibernation" might look like, it is essential that you take this time to replenish your resources that have been used throughout the year.
Recently, Deb and Yang Yi, her professional assistant, have been spending their free time beekeeping and harvesting honey. This new hobby has been inspired by finding COVID restorative activities. Now more than ever, it is important to find something as interesting as your work life to do in your home life. Whether that means taking up a new hobby, focusing on our health, or practicing self-care.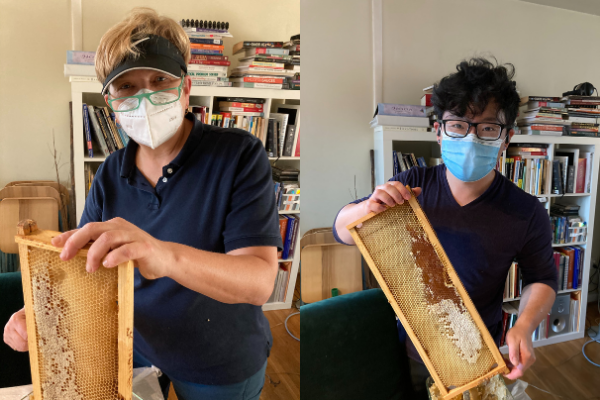 Any winter activity should still focus on relaxation and slowing down. Now is a time for resting, recouping, and reflecting on the past year. Some ideas include starting a gratitude journal, baking, creating a vision board, reading, and listening to podcasts. You can find some more winter self-care ideas here.


Acupuncture Helps Us Live in Harmony with the Seasons
In Traditional Chinese Medicine (TCM), there are 5 natural elements that exist within us, as they do in nature. Each season belongs to a particular element and has unique correspondences. When we study nature's patterns and cycles, we can learn how to support our own health and stay well year-round.

Winter's Associations in TCM:
Element: Water
Yin Organ: Kidneys
Yang Organ: Urinary Bladder
Emotion: Fear
Taste: Salt
Virtues: Courage and Strength

Acupuncture during the winter months can help boost your immune system, improve your mood, reduce stress, and overall balance you during these transitional months.

Contact Earley Wellness today to schedule an appointment!

Health Blessings,
Deb Earley